Bespoke training plan with full coaching support

£80* / month
"Super satisfying to come back after a year like this and actually manage to climb [my first 9a]. A big thanks to Lattice Training for helping me with a training plan for the year - I don't think I could have stayed motivated and on track without them."
Are you looking to improve your climbing and be supported with the training tools and services that a professional athlete would be? Would you like to be objectively assessed and analysed for your strengths and weaknesses and then compare directly to a pool of other climbers around the world who have similar profiles and climbing goals? Finally, are you looking forward to receiving a customised training program built specifically for your physical abilities, your time available and the climbing/training facilities that you have each week?
With our Premium Plan, you must first complete a Remote Assessment or an In-Person Assessment (find your nearest Lattice Board here). This will provide you with your physical profile via a testing "tool kit" and we deliver you an in depth written report. Importantly we'll map out how your current abilities match up with your aspirations and goals so that we're able to be realistic about what's achievable when working together. From this point, on a Premium Plan we will work with you to create a bespoke training plan that works on your progression in the most effective manner possible.
Your coach will help you manage the bigger picture of your entire season, but also how to micro-manage weekly activities. They are there to guide you through your program and any changes that need to be made along the training journey. Throughout, you'll be assisted in understanding how well you're getting on, whether you're training enough or too much, and offer insight into projecting processes.
Please note that you can only start a Premium plan if you;

Have first completed a Remote or In-person Assessment

Are over the age of 18

Are climbing at a level of 6b / V4 

Can hang at bodyweight from a 20mm edge for at least 10 seconds.
(We reserve the right to

refund

your subscription if you do not meet our minimum requirements when signing up for a plan).
Have you completed an assessment?
Before signing up for the Premium Plan, you should either have completed an assessment within the last 6 months or have purchased a Remote Assessment in our shop separately. You will not be able to start your Premium Plan until you have submitted your assessment results.
Premium Plan
Sign up for the plan with a one-month deposit using the link below

Complete a form that tells us all about your climbing goals and facilities

A member of our team will assign you a coach and start date

Access to full Lattice 365 library
Waiting Time
Once you sign up for a plan, you will be put onto our waiting list and when you have completed your training plan response form, you will be assigned a coach and start date. We will aim to get you started within 4-8 weeks of signing up. However, depending on availability at the time of purchase it can take longer for a coach to become available. If you have any questions please get in touch here; [email protected] and a member of the team will be happy to advise on the current waiting times.
How to start your Lattice premium plan with us...
STEP ONE: Sign up for the premium plan
To start a Premium Plan with us, begin by signing up using the link below. You'll then be sent through a Welcome Pack with a form where you can tell us about your goals and available facilities.
If you haven't yet done an assessment, you should purchase one in our shop here. Once you submit your results, you'll receive your report within 1-2 weeks.
If you've already done either a Remote Assessment or Lattice Board Assessment in the last 6 months, all you need to do is sign up, complete the form and we'll assign you a coach within the given wait time (see above).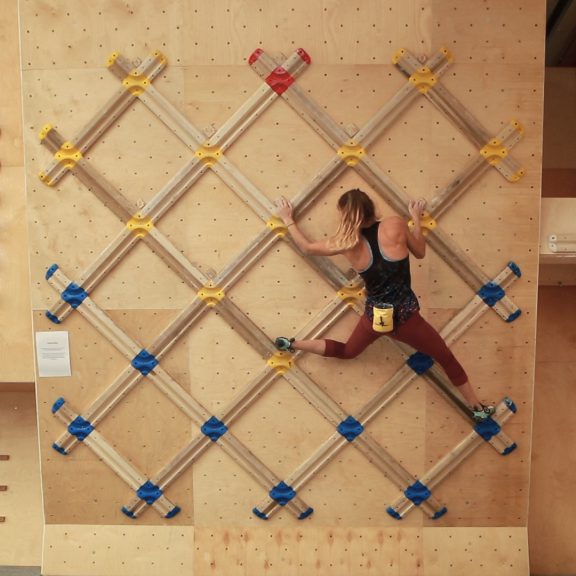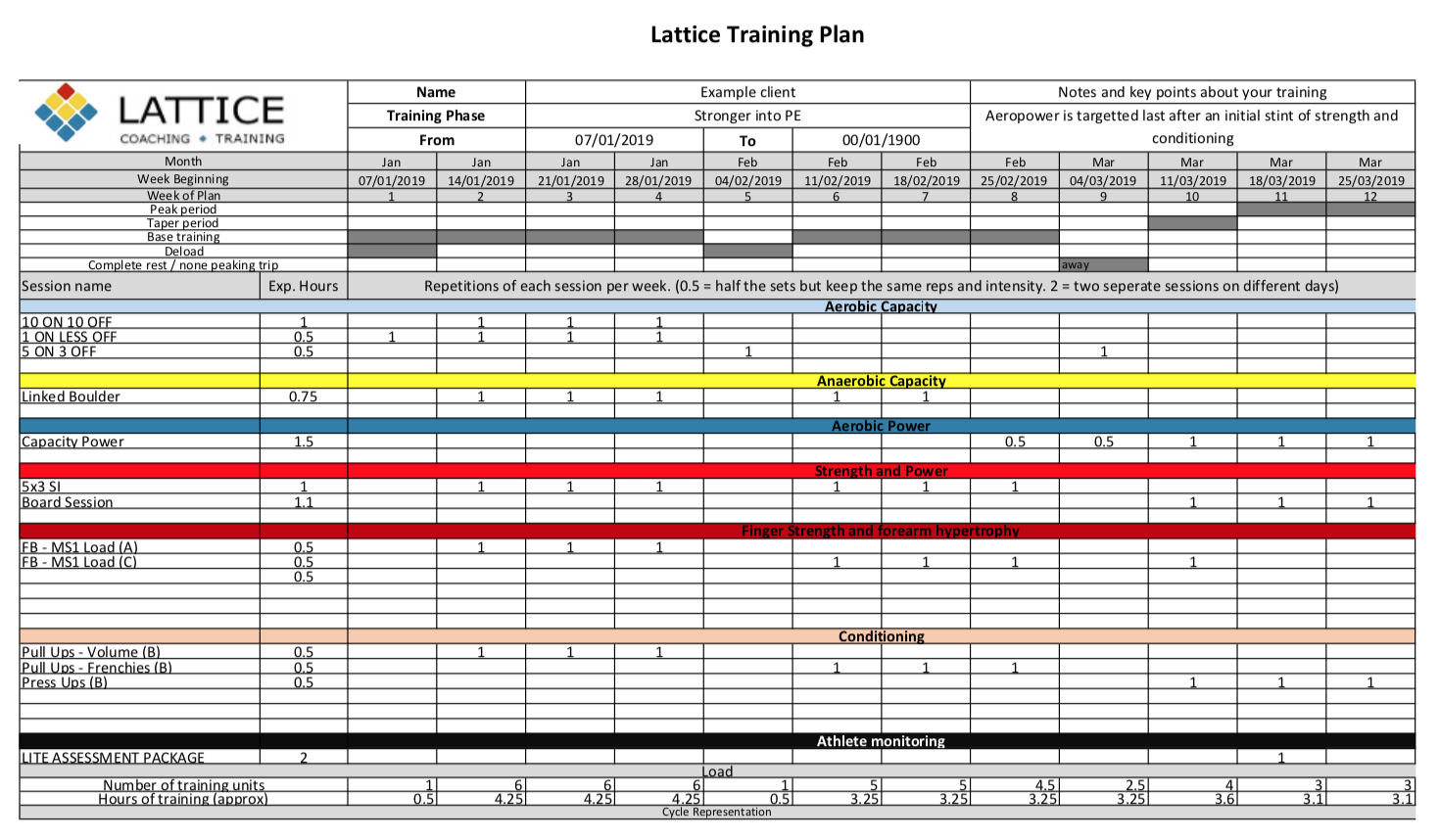 Step two: start your training plan
Using your personal assessment results, weekly schedule, planned trips, and training facilities, your coach will design your Premium Training Plan. Delivered to you in 3-month blocks (for a minimum of 6 months), it is structured to help you peak for that upcoming trip, project or general all round improvement! Whether you work 9-5 in an office and train in the evenings, work on an oil-rig and only have access to a fingerboard and weights, or are travelling in a van for 6 months but want to continue training, you can still follow a Premium Plan that fits around your unique schedule.
Please note that there may be a waiting list for starting Premium Plans. Contact us to find out the wait time and confirm your spot on our waiting list.
Step three: follow your training sessions
Alongside a training cycle overview, we provide you with detailed session sheets with every workout. Each one explains what type of training facility you can use, how to choose your training difficulty and exactly what a session involves. Many of the sessions are further supported by video content and if you need more, you can just get in touch with your personal coach and talk to them about it! Our qualifications include Masters in Sports Science, PhD doctorate, Sports Science degrees, PT qualifications and more… we've got the expertise to help you!
We structure your training so that you have sections to complete under different categories of intensity and training aim. At a basic level there is sections of aerobic and anaerobic climbing, then there's strength and power sessions, workouts that progress you through different finger strength programs on a fingerboard and finally general "gym work" that includes weights, bar, floor exercises for strength, endurance, mobility and athletic health. Don't forget that all of this is designed specifically to you, so if you're only able to train on a fingerboard and in the gym, that's what we'll plan for!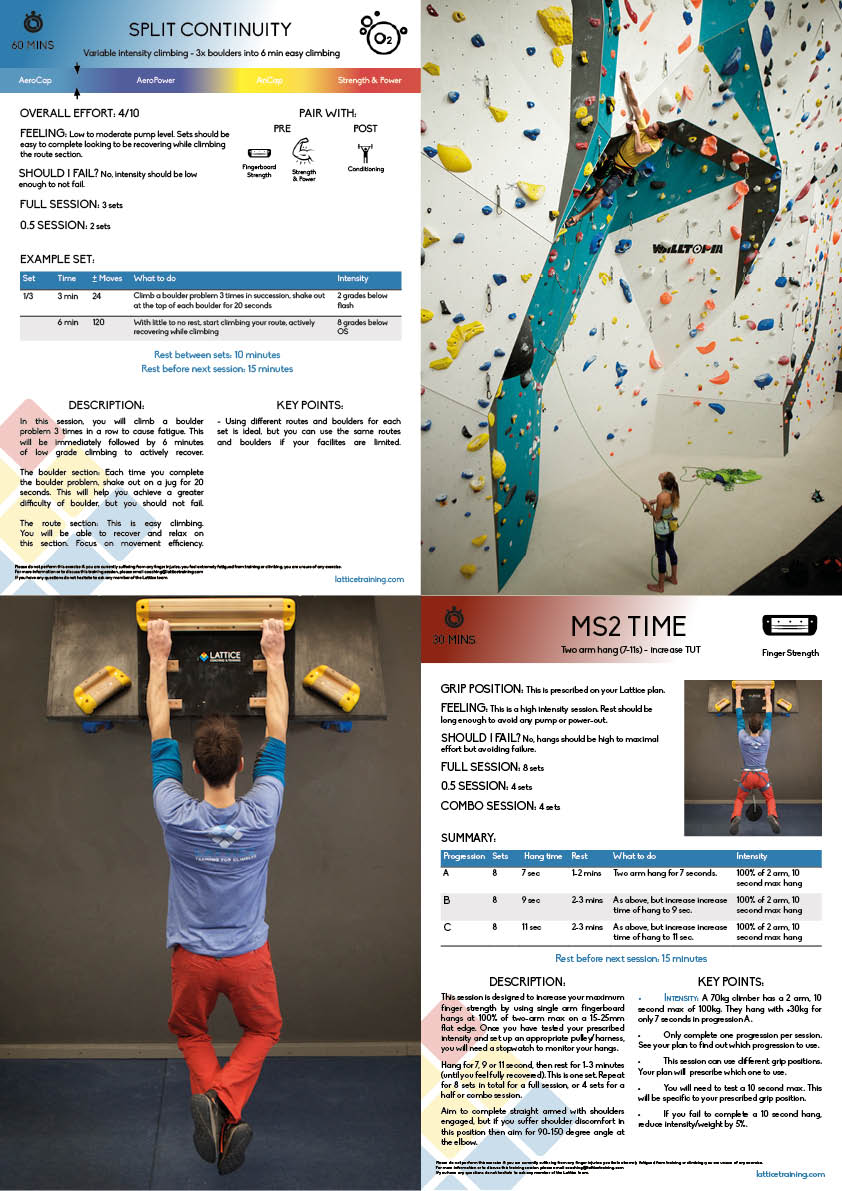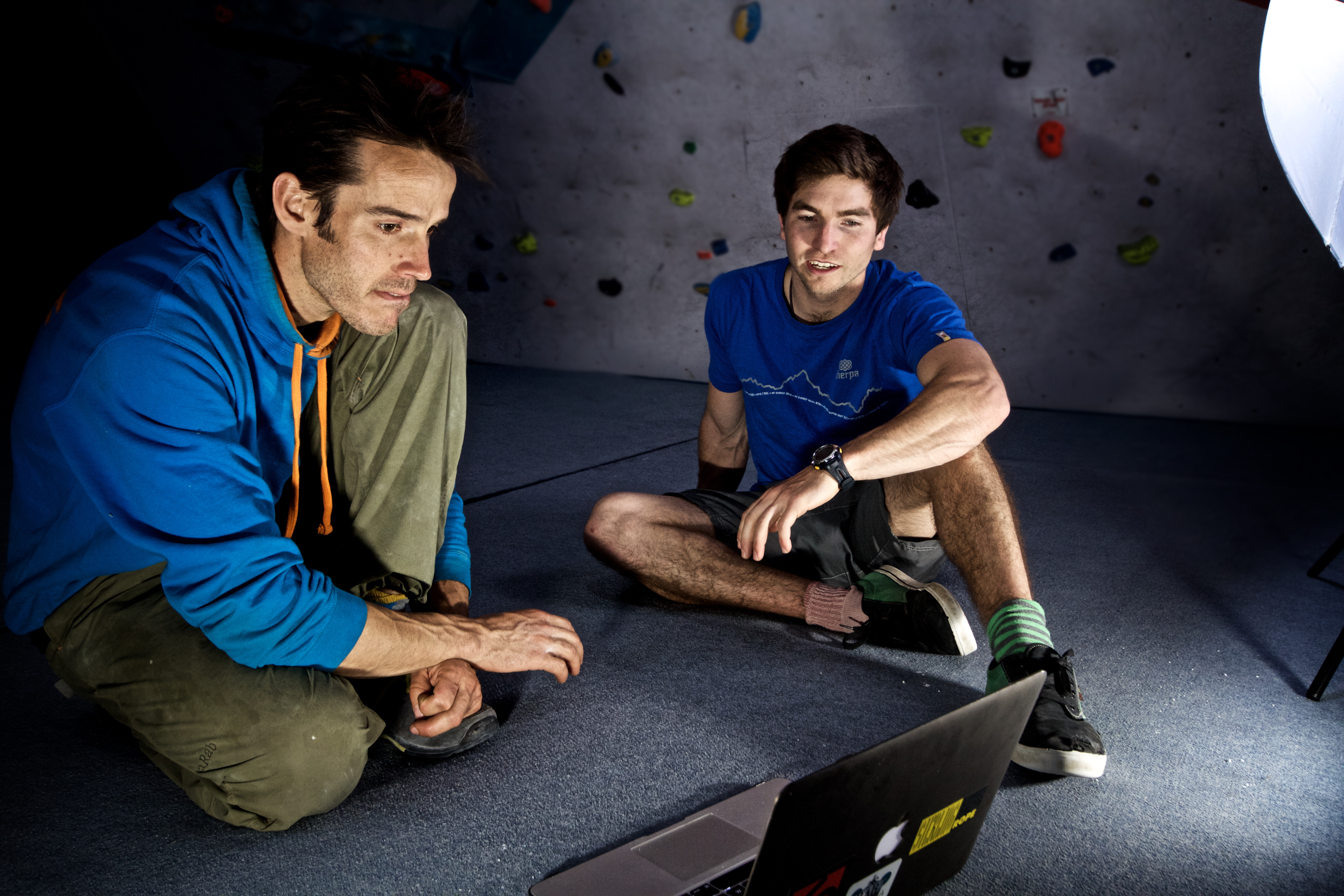 Step Four: receive coach support
When starting your Lattice Premium Plan, you will be assigned one of our world-class coaches who will be on-hand for email support throughout the duration of your training plan. So, if you have any questions about scheduling, specific training sessions, projecting routes, competition preparation or anything else, your experienced coach will be able to provide you with that essential support to help you progress.
Our coaching team up is made up of eight coaches who have collectively climbed up to 8c+, E9, and V12. They include multiple Sport's Science degrees, decades of coaching experience and a passion for research. Read more about our team here.
"I really can't emphasise enough how different I feel; definitely the fittest I've ever been for climbing, and probably with the best finger strength too. Being able to do hard moves, shake out, chill for a moment, and then just keep going feels great!"
Sign up for your Premium plan today! Make sure you have completed or purchased your Assessment first and we will aim to get started within 4-8 weeks.
I've never been coached before, Is that ok?
Yes that's no problem at all! Most of our clients who have joined us over the years are coming to us for their first coaching experience and we're set up to take you through the very first steps all the way to being fully self-sufficient. We've all been through this journey ourselves, so we understand what you'll need.
Do you cater for all climbing grades?
Our experience is in a huge range of abilities and styles of climbing. We work with many who are aiming to climb their first V5 or 5.11 sport route all the way to some of the best professional rock climbers and athletes in the world. Typically we recommend our Premium Plans for climbers operating at 6b/5.10 and V4 upwards.
I have a really busy and complicated life. It's constantly changing and I'm not sure I can stick to a rigid structure.
This is very normal! Most of the climbers we work with have full time jobs, often with families and other responsibilities thrown on top. Our skillset is very much to help you structure and control your climbing and training around those life choices. Some weeks you may only get to the gym once and we provide the support to be able to work through this. The consistent email support you get with your coach means you can let us know if you've had any last minute changes to your schedule.
Can I climb outside or inside for "fun" whilst training?
Yes of course! We'll work with you to understand the healthy balance of structured and unstructured climbing in your life, because we know it's best for long term progression. In many cases, we'll create plans which give a climber 2 structured sessions a week indoors which can be combined with weekend climbing outside. Other times, it'll be working out how a climber can do a 45 min gym workout at lunchtime each day to compliment the unstructured social climbing they do in the evenings after work.
I'm already 40 years old. Is it too late to train and push my grades harder?
You might be reassured to know that one of the most popular age ranges that we work with is the 35-50 year age group. This is often the time in peoples' lives where lots of responsibilities of life get piles on, coupled with reducing spare time. We love working on time management, efficiency issues and problem solving to make this work. All of our climbers in this age range (whether they started late in life or not) are perfectly capable of getting stronger and fitter and we see this on a weekly basis.
What does a plan include?
The Premium Plan comes as a subscription and is for a minimum of 6 months. Following this, you can continue to pay for 3-month training blocks for as long as you like! The plan itself is a weekly schedule of sessions to complete, chosen from a library of over 100 sessions. Alongside the plan itself, you also receive the full and ongoing support of all the Lattice Team. This includes edits to your plan when required and added extras such as access to our Lattice 365 members area and exclusive discounts!
I'M NOT IN THE UK, DO YOU DO REMOTE COACHING?
Yes! In fact the majority of our clients are not based in the UK and all our coaching services are remote.
HOW DO MY SUBSCRIPTION PAYMENTS & TRAINING BLOCKS WORK?
PAYMENTS;                                  TRAINING BLOCKS;

First 6 months (x6 subscription payments from you)

x2 12 week training plans & coach support

Subsequent 3 month blocks (x3 subscription payments from you)

x1 12 week training plan & coach support