Interview: Will Smith, Era Vella and training for 9a
9a by the age of 22 for UK climbers is fast becoming the gold standard to aspire to. No longer the realms of "professional full-timers only" we have a chat to Will Smith about Era Vella, indoor replicas and training for outdoor performance.
Will is a 22 year old climber who in recent times has been based out of Sheffield Uni. For many people on the UK climbing scene, his name is one that doesn't receive as much attention as others perhaps due to his quiet, unassuming nature. Even when you see him at some of the king crags in Spain – where many climbers like to take up a bit of the limelight – he's quietly going about his business. No fuss, no show-boating.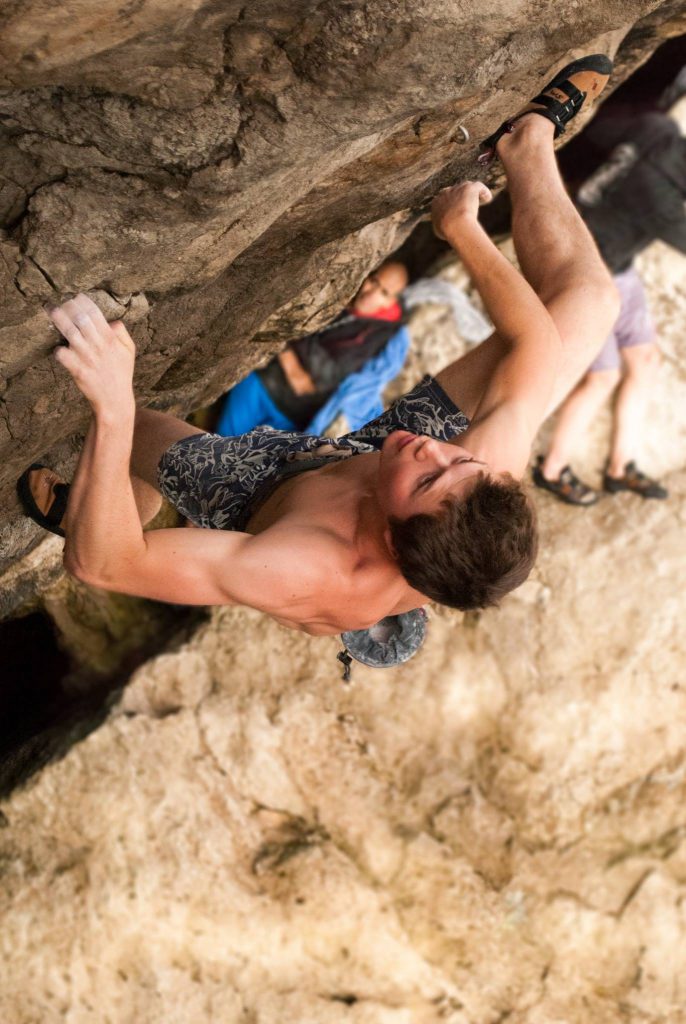 When I first met Will, it was when he was a Junior competitor and taking part in the BMC comp circuits. He'd occasionally come up to Sheffield to train with a friend (Tom Bonnert) who I was coaching at the time and from early on he struck me as a very self-sufficient climber. One who would sort himself out and not rely hugely on others for support. In fact, one my earliest experiences with Will was when he presented me with his own self-written training program (which is impressive in itself at that age!) but he'd got the whole periodisation system back to front. It was near perfect but simply the wrong way round! With a bit of help he changed it and went back to his very self-sufficient manner…. constantly ploughing away at his energy system work and progression of his performance. Much of that groundwork has gone into his recent ascent of Era Vella in Spain.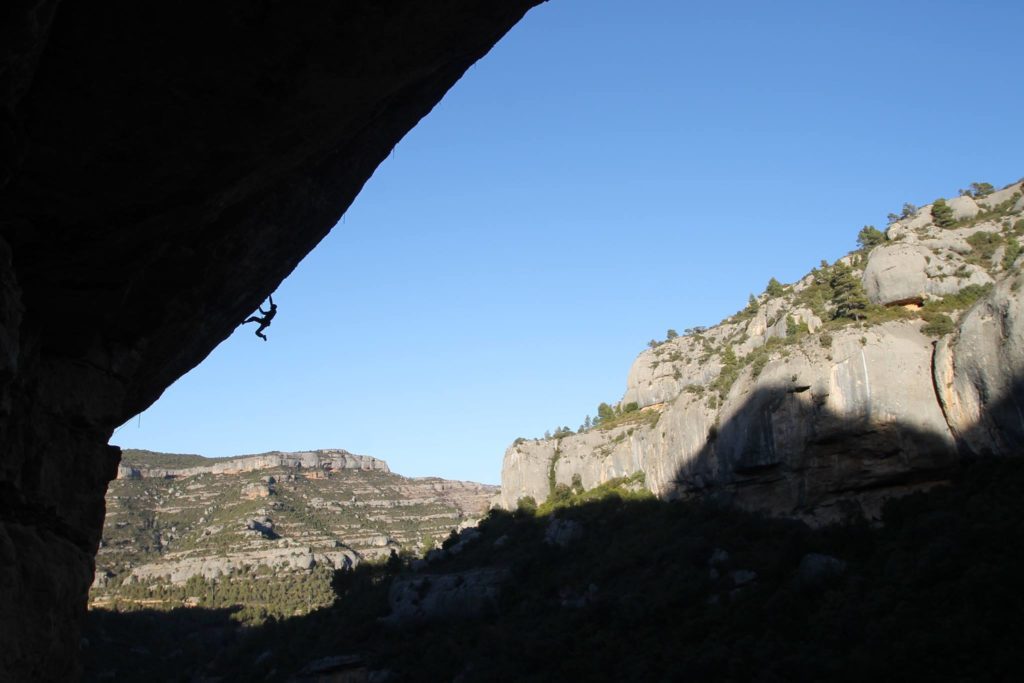 So Will, thanks for taking a bit of time to chat to me. Obviously, we know each other a bit from "back in the day" but it's clear that you've continued to make nice consistent progress since then. One thing that I picked up on a while back was that you were climbing with Alex Barrows who's also keen on his structured training and projecting. How did that all start?
I met Alex whilst climbing at Raven Tor in 2014 when he asked me about the route. This was at the point where Alex hadn't actually tried it [Era Vella] but I had had a brief go in April that year. We then got to know each other better through training sessions at the wall.
When did you first try Era Vella? Did it instantly seem doable?
I first properly tried it with Barrows in April 2015. He did it that trip and I managed it in 3 sections which, to be honest, was a long way from success. The meat of the difficulty on Era comes from linking it all together.
I think that you, me and Alex Barrows are what you could describe is "route profilers" in that we break something down into its requisite parts and then train for it. Would you say it's fair to put you into that bracket?
Yeah my experience with Era definitely fits your description of a 'route profiler'. I really enjoy having a long term project that you can try, go away and train for, then come back and see what progress you've made.
On Era it was obvious from the beginning that I needed to be strong enough on the crux to do it when tired but also fit enough to get through the climbing below without getting pumped. After the crux the climbing is easier, about 8a+ but very sustained.
Would you say that this route was about strength, endurance, or specific grip types? Or a mixture?
So for the crux I had to work a lot on specific grip types, mainly small front 3 crimps, which was mostly done on the fingerboard. Additionally I did a load of bouldering on replicas of the crux. I took measurements when I was here with Barrows and built it on my little board at home. This combined with less accurate replicas made at the wall got me a lot more comfortable with the movements. Actually I never even managed to link the replica on my board – turns out it was way too hard! I think that's a good thing though as it's a really nice mental boost when you go back to the route and realise, 'shit! This is way easier!'.
Would you say you simply had to get fit for the route and it was in the bag?
The top wall required a different type of endurance to the bottom, good AeroCap helps a lot to get more back from all the mini flick rests between each move. I was lucky enough to be able to spend quite a while out here this trip so a lot of specific fitness was built up while trying it.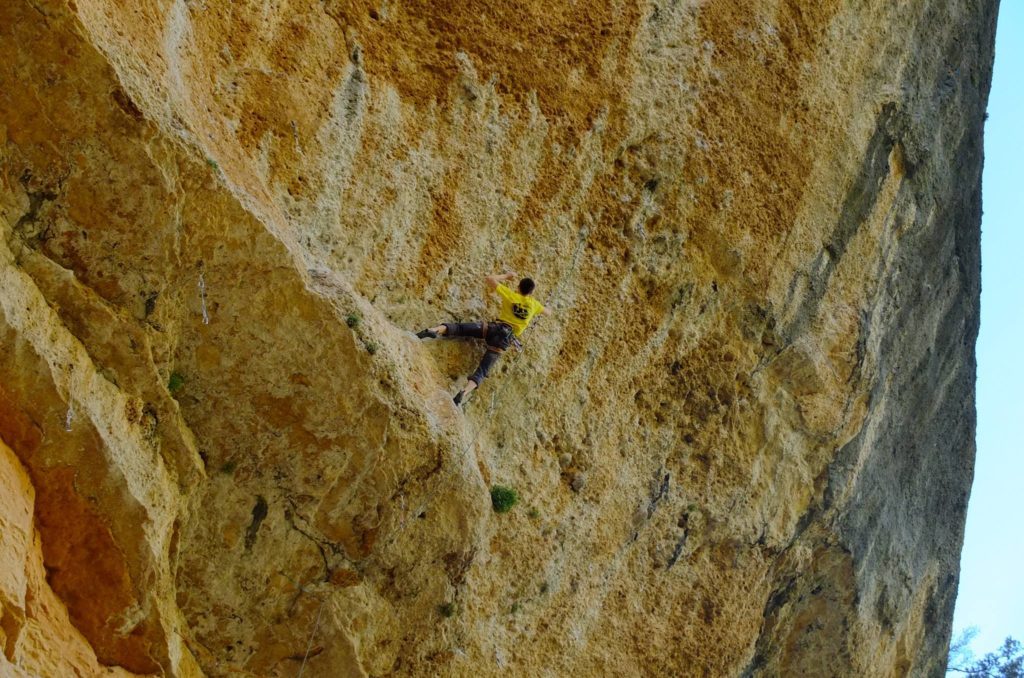 What was it like working a project at the same time as someone else? I've always enjoyed this process with Pete Whittaker, but curious to hear if you found it useful as well? Perhaps some sharing of knowledge?
It was good to try it with Barrows and see him do it. We were both training for it at the same time at the School Room in Sheffield and making replicas together. The biggest influence I took from him though was some on-route tactics specific to Era Vella. Basically just rest less than you want to. There's a bad rest before the crux and Barrows found that whilst it's possible to stay there for several shakes, it's better to shake just once and go. That probably saved me some goes as I didn't have to find that out.
something else I learnt from Barrows is that it's good to make new rough replicas all the time. No replica will ever be perfect so if you make lots, they'll all be a bit wrong but the average will be right. Saying all that, ironically on my first session on the route this trip, after all the crux replica training, I completely changed my beta in the first half of the crux! Not a waste though, the grip types were the same and the movement was similar.
Ok this is all amazing…. Now that you've had success with this type of breakdown do you think you'll do the same again?
Yeah I'm sure I'll do it again, i'm in Santa Linya as I write and have been checking out some projects for next year.
Also, when I see these types of character habits (in other words, performance profilers) in climbers, I think you can often find it in other areas of their life… are you like that?
I do see aspects of that in the way I go about other areas of life. I tend to like to have a plan and find the most efficient way of getting something done. It's not quite the same as with climbing though, I think I go about that with more conviction.
What do you think is more important? Angle of replica? Size of holds? Grip type?
Good question, I reckon angle and position of holds. It would depend on the movements in question though. There will be some moves where the size/type of the holds dictates how the move has to be done but on Era it was more about their position. I could train the perfect grip types on the finger board but on the replica I had to get the holds in the right place at the right angle to get the body positions to feel the same.
For project work, I find that I have to be two V-grades stronger than the crux but definitely no more. So more or less I can then take anything on that fits this model. Doesn't matter where it is… but I do need a margin of 2 from max…
I haven't though about the boulder grade margin before but 2 or 3 grades would fit my experience. On Era the crux is 9 moves long and I reckon 7B but have heard 7B+. My max boulder is 7C+.
Any Sponsors?
Many thanks to Monkey Fist.
More from the Lattice Blog