The Training Diaries: An Interview with Joel May
Recently, we interviewed another inspiring Lattice client; Joel May. Who has a real passion for climbing, which we are always psyched to see!
"I believe that those of us with a passion are very lucky, and I also believe that squandering one's passion is a tragic mistake."
My name is Joel May, I'm 24 years old and live in Denver, Colorado. I graduated from the College of Charleston in 2018, where I studied Philosophy and Political Science, and not long after I moved to Denver with my girlfriend, Molly. Here I have two jobs: teaching LSAT (Law School Admissions Test) courses, and working at a Whole Foods. At present, I am more devoted to my climbing goals than my career aspirations. I believe that those of us with a passion are very lucky, and I also believe that squandering one's passion is a tragic mistake. I have found a passion in climbing, and right now I have chosen to structure my life around this passion as much as I can. As a climber, I enjoy all disciplines, and I won't pass up a fun day out on a moderate multipitch, but my real focus is on pushing myself and seeing what levels I can reach. I love undertaking projects that feel overwhelming and unlikely at first, then systematically breaking them down and seeing what sort of preparation they will require. I find that I often surprise myself with what I can achieve through discipline and hardwork, so I always do my best to dream big!
1) – First up Joel, massive congrats on your send of "Portrait in Flesh" 5.14a! Can you tell us a bit about that line?
Joel:
Thank you! Portrait is a 40 foot tall sport route in Clear Creek Canyon, Colorado. It is a slightly overhanging, techy face climb that uses a lot of small crimps and smeary feet. The interesting thing about Portrait is that the first 30 feet or so are comparatively easy (12+/13-), but the ending is (for me) a very hard and low percentage boulder problem that is highly condition-dependent (read: bring the big puffy). The crux move is a super extended deadpoint in which you're moving around a bulge in the rock, which means that you have to stay very close to the wall as you get fully extended to catch the edge that you're going to. This is essentially the last move on the route.
2) – I hear before the successful day you fell off the last move over 18 times? What was your process like for continuing the self belief?
Joel:
Before the send go, I had fallen on the last move a total of 22 times on redpoint attempts. Last fall season (fall of 2020), I realized that I had developed a mental block for this move. I was able to do the move in isolation almost every time that I went out to the route, but even when I would get to the move on redpoint attempts with enough energy, I just wasn't able to muster the focus. The move is so technical and so difficult for me that it requires unmediated focus. Eventually, I got to the point where every time I made it to the move on redpoint attempts there would emerge a thought in my mind that would doubt my ability to do it. The presence of this thought took enough of my mental energy away that I could not fully focus on the move itself, which meant that I could not pull it off on redpoint attempts. I essentially dealt with this in two ways. First of all, I took about three months off from trying the route during the winter. My thinking was that if I didn't try the route for an extended period of time, the mental block would dissipate. This break was very helpful for me, but only because of the second thing that I did, which was train very, very hard. During those three months, I got significantly more fit, which made it easier for me to believe that I was strong enough to pull off the route. As it came time to start attempting the route again, I convinced myself that I was much more capable than I was the season before.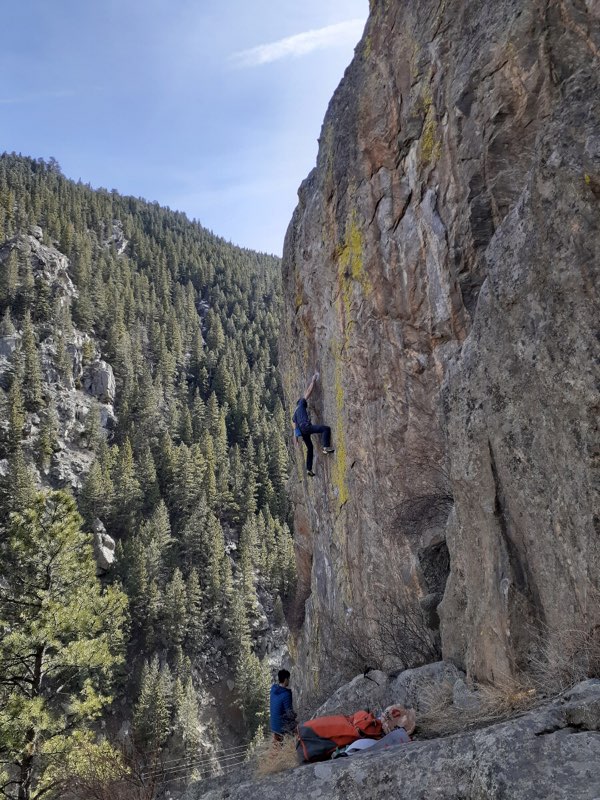 ~ Photo: Jay Samuelson
3) – What were the main sticking points on the route and what were you doing training-wise to improve those?
Joel:
As is probably clear by now, sending the route came down to that last move for me. Training-wise I worked on getting stronger (especially my finger strength and pull strength) so that the move would feel easier, and I also focused on my anaerobic capacity, which I believe was crucial because it helped me get to the move and not be powered out. I also visualized myself sticking the move a fair bit. A big part of this whole process came down to me learning how to convince myself that I was capable of sending the route. I think that we can all play an active part in forming many of our own beliefs (especially beliefs about ourselves as individuals), and Portrait gave me a great opportunity to engage in this practice.
4) – How have you found it working with your Premium coach Ella? Has there been a process/journey in that itself?
Joel: Ella is a fantastic coach! She always goes above and beyond for me, and it's clear that she takes her job as a coach very seriously. Without her help, I really don't think I'd be anywhere close to where I am with climbing. Ella is super knowledgeable about all things training and climbing, and having her as a coach has fundamentally altered the way that I view training for climbing. Additionally, she always remained very supportive of me and my goals throughout the entire year that I was projecting Portrait, and she never once showed a hint of doubt in my ability to send it. I couldn't ask for a better coach!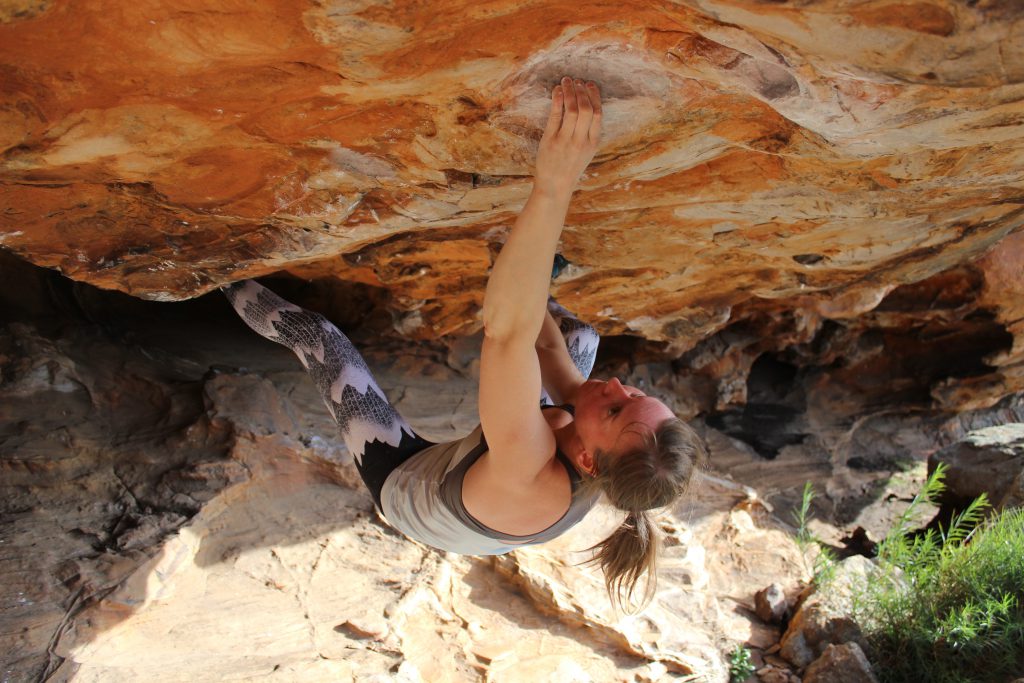 Joel's Premium Plan Coach, Ella Russell
5) – What would you say are the main things you've learnt in the last year that you'd share with yourself a year ago?
Joel:
Ah, tough question! Reflecting on Portrait, I have realized that the emotional gratification that comes from completing a hard, long-term project (climbing or otherwise) is not why we choose to undertake them. Don't get me wrong, the moment of clipping the chains on Portrait was one of the best moments of my life, but it's the entire process that I really draw meaning from. The pride in making good links, heartbreak in the moments of failure, and despair when things felt most bleak — riding the rollercoaster of the process is what it's all about for me. Devoting myself to something so fully and with such fervor and perseverance gives me a sense of purpose with which I can structure my life, and completing Portrait has given me a huge confidence boost in my ability to succeed at the goals that I choose to pursue.
6) – What's next?!
Joel:
Next week I'll be starting a new training cycle which is going to focus on preparing me for an even more mega route that I want to send this fall!!
More from the Lattice Blog