Interview: Dale Comley, The Lattice Training Product Designer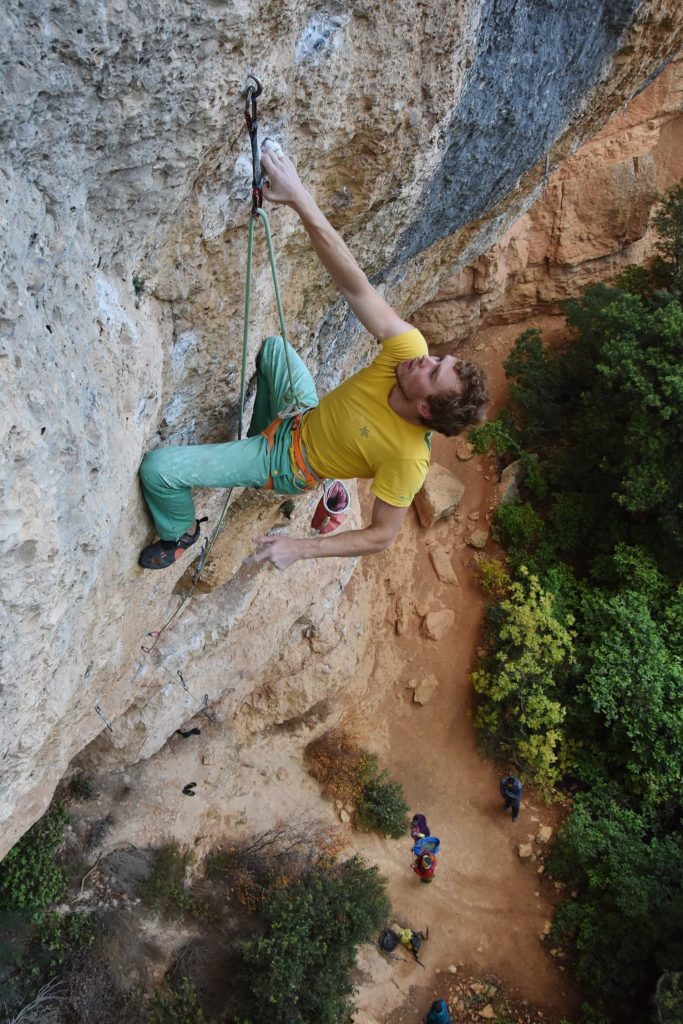 Dale's Introduction into The Lattice Family
Back in 2016, Dale Comley and Ollie Torr were getting seriously cold and wet trying to climb Deep Blue Sea, a route on the North Face of the Eiger (yes, they are that mad!). Between weather windows they sheltered in Ollie's tiny Peugeot Partner and started to toy with the idea of producing a commercially available version of Tom's Lattice Board. Until that point, it was just a homemade profiling tool in the back garden of Tom's house and desperately in need of some high quality engineering and design.
Having graduated top of his class with a 1st class degree from Loughborough University, and working as a Design Engineer at Dyson, Dale is the perfect person to deliver a quality, innovation and commercialism to our products. He's a keen climber (he's perhaps the keenest on the whole team!) but also has that rare combination of interest in his work to compliment his sporting passions.
Without wanting to blow his trumpet too much, Dale has grown the business and helped to sell Lattice Boards all over the world. He now concentrates on the day to day running of Lattice Products and developing new ideas, which is where we constantly strive to improve. There isn't a single month that passes where we're not thinking of how to make things just that little bit better….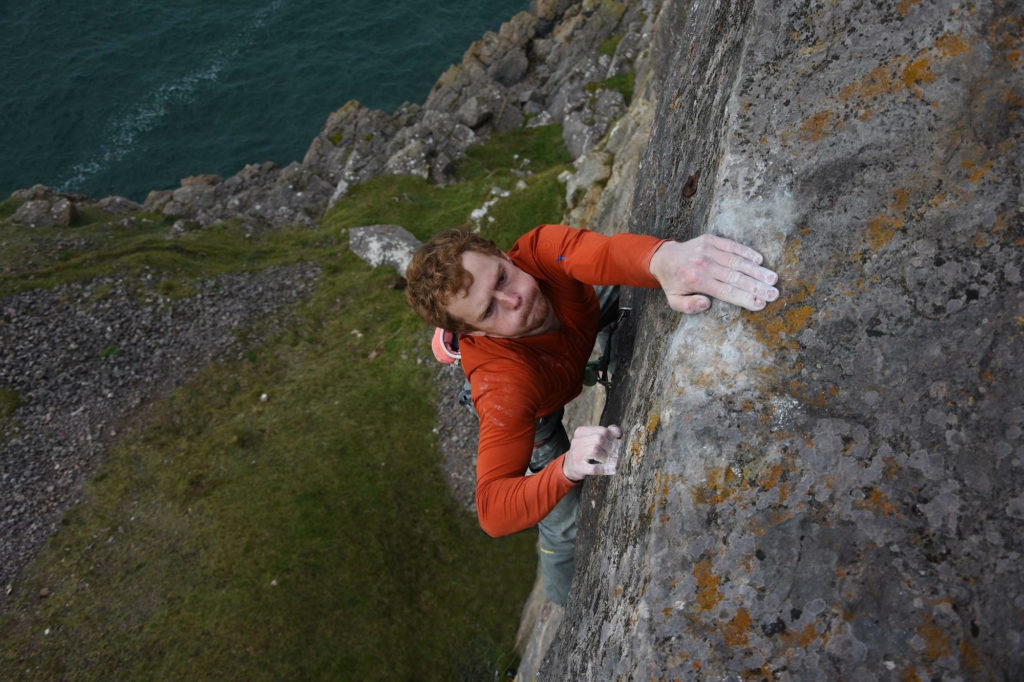 Ok most important question – what's the weirdest thing you've ever been asked to design?! You worked in medical products didn't you?
Perhaps the weirdest enquiry came from a lady wanting to create a vibrating crystal healing device…
Dale, can you tell us a bit about how you started to design a Lattice board and turn my very basic concept in the garden into a commercial product? I mean, I only gave you some banister rungs to work off!
Having your [Tom's] basic prototype to work from was a great starting point. We maintained some of the key geometry and component spacing to ensure that any data that had previously been collated was still relevant.
Following this we went through a series of brainstorming exercises to conclude what we wanted the board to do, how it could be manufactured and assembled, and how it would look. Once the team had agreed on the design intent, I hid away in my room generating the first surfaced modelled 3D designs which we critiqued and gradually developed. Having concluded that we wanted our diamond connectors and end caps to be made from the same material used for climbing holds, I started to analyse the design further.
I performed virtual mould flow and shrinkage analysis to try and predict the effect that varying material thicknesses would have on the rate of cooling and consequently the shape of each component. This allowed us to make small form changes to reduce the effect of component shrinkage and ensure that each component perfectly aligned with its adjoining part.
Once we were happy with the design we rapid prototyped the diamond connectors and end caps using a process called Fused Deposition Modelling (FDM), an additive manufacturing technology that could accurately produce our components. We first used these components to make sure that they were comfortable to hold and met the desired aesthetic, before we handing them over to Core Climbing in Sheffield, where they used the 3D printed components to create a series of impressions in a resin mould from which we could cast our PU holds.
Following the release of the first diamond connectors and end caps, we ordered a series of bespoke timber mouldings in a variety of timbers so we could perform tests on each sample. It was important to us to not only find a timber that looked great and was comfortable to hold, but also that was strong and highly durable. This lead us to opt for Tulipwood, a fairly dense timber that wouldn't splinter after thousands of foot moves. Each component would then be CNC drilled and countersunk before being laser etched with the Lattice logo.
It was important for us to use modern processes such as 3D printing so we could ensure that every component produced would be dimensionally accurate and repeatable, something that would be extremely difficult to achieve if produced by hand.
Why have you added the centre diamonds and additional rung detailing?
The centre diamonds were added for 3 main reasons. Firstly, we wanted to allow for a seamless 90 degree transition between each rung. Secondly, it makes joining each component together easier, with a smoother transition. Finally, the diamond provides additional hold options.
The rung features 3 main edges: a juggy 40mm edge, a flat 20mm edge and a 20mm undercut edge. The rung also has a subtle line running the full length, indicating where the climber should put their thumb when climbing and also helps in the construction of the board when route setters do the installing.
Have you found designing a system board has made you have a more systematic approach to your own climbing or are you truly an "artist" all the way? 🙂
Taking a more systematic approach to my training has made a massive difference; I had plateaued at getting 1 or 2 8a's a year until I switched onto the Lattice plan, where after 9 months of training I jumped up two grades and bagged more hard routes than every year before combined. I also learnt an important lesson, 'overtrain, no gain'! I actually managed to stay injury free for a full year for the first time ever…
We all know you as a mono-pulling beast. Can you tell us your secret for getting so strong on them? I couldn't believe how hard you pull on them without warming up….!
Climbing in the Frankenjura in my teens was definitely the catalyst for my mono psych! Back home I made a campus strap with a series of loops every 30cm which I could campus up and down until I was boxed out of my mind. Nowadays I do laps on the Lattice Board using the top of each diamond – just a couple of laps feels pretty desperate! [ed. I had a go on the mono campus strap back in the day, think I managed one move!]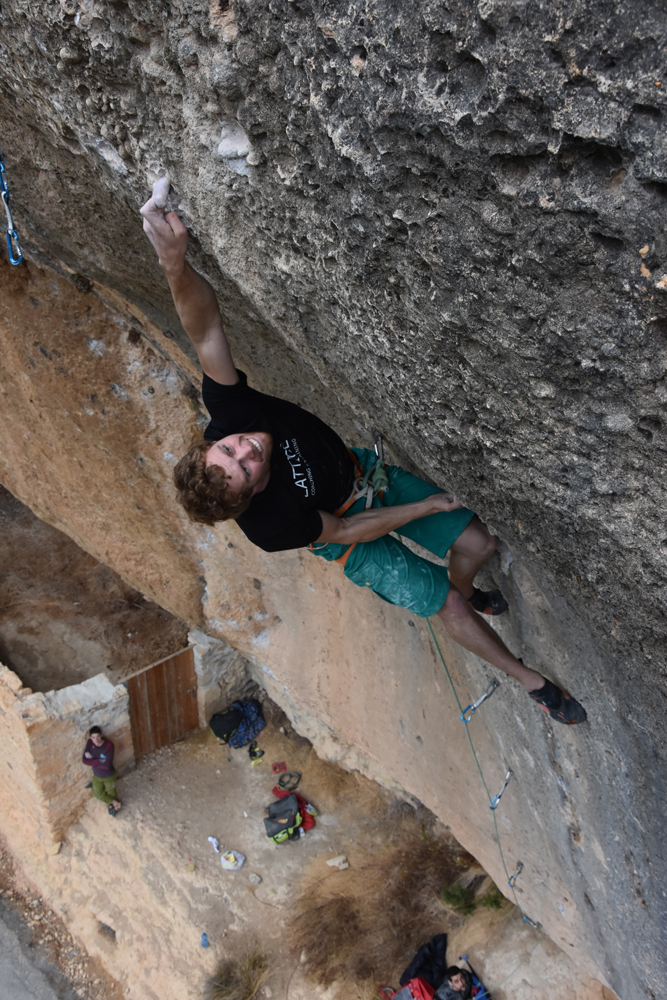 What's next on the design front? Any exciting plans?
We are working on some additional products to make the Lattice Board even more accessible to people – you'll have to wait until 2018 for more details!
If you could have unlimited budget, what would be your dream design project in climbing? What's the thing that you feel is left in the years before 2000?
I'm a big fan of lead-rope-soloing and use both a Silent Partner and a heavily modified GriGri to climb somewhat safely on my own. However both have flaws and at times feel a little sketchy, so I'd love to develop my own device and make the concept of lead-rope-soloing more appealing and accessible to other nutters.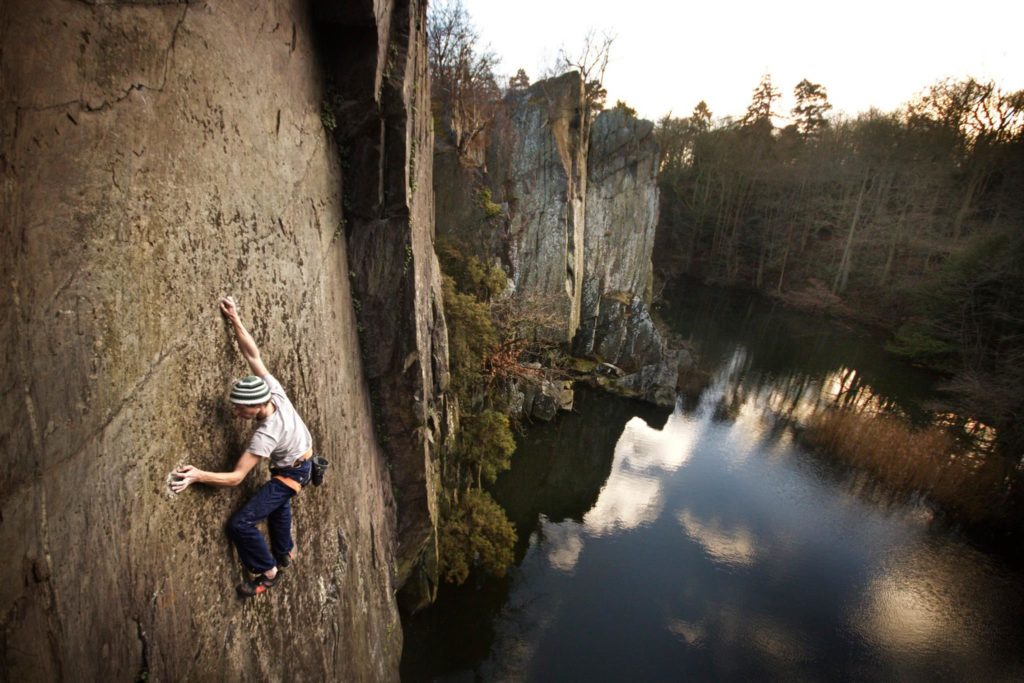 What's on the plans for your own climbing this year? Any good projects?
I'm recovering from two A2 pulley injuries (you'd never guess what from…) so I am keen to find my finger strength before a trip to Yangshuo in China at Christmas. After that, 2018's lineup so far is a few weeks in Lofoten, a big wall trip to Tsaranoro in Madagascar and some sport climbing in Sardinia.
In terms of projects, there is only one route that matters to me at the moment and that's your [Tom's] Final Round, HXS 8a+/b (or in a grade that other people understand: E9 6c). I've done more top-rope laps on that route than anything else and tying in on the sharp end is long, long overdue!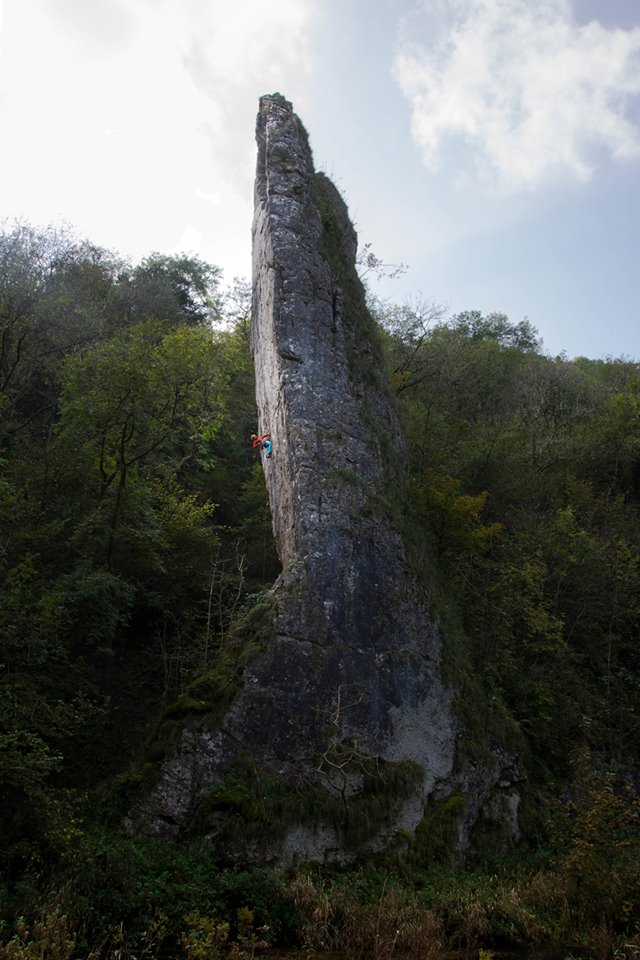 More from the Lattice Blog