The best sport climbers in the UK
Over the last few years the list-loving geeks over at ukbouldering.com have maintained a list of the top 100 or so British male sport climbers and the top 100 or so British female sport climbers. Like all good lists the criteria for inclusion are quite specific and slightly arbitrary:
No traverses
No boulder + route link ups
No trad routes (as impressive as 8a or harder on trad is!)
Climber must be British or have lived in the UK for a substantial period of time
For men: 8c/14b and upwards
For women: 8a/13b and upwards
No time limit on ascents
The grade boundaries are chosen to keep the lists at a manageable-but-still-interesting size. It's worth noting that the data is unlikely to be 100% accurate but hopefully it is quite close to comprehensive.
It seemed a shame to let a good list go to waste so I thought I'd put together a few graphs to illustrate the data. For the purposes of these graphs I've been generous and bumped any slash grades up to the higher grade as well as assuming any unconfirmed grades to be correct. Any ascents marked as 'unsure' in the data have been excluded from the graphs.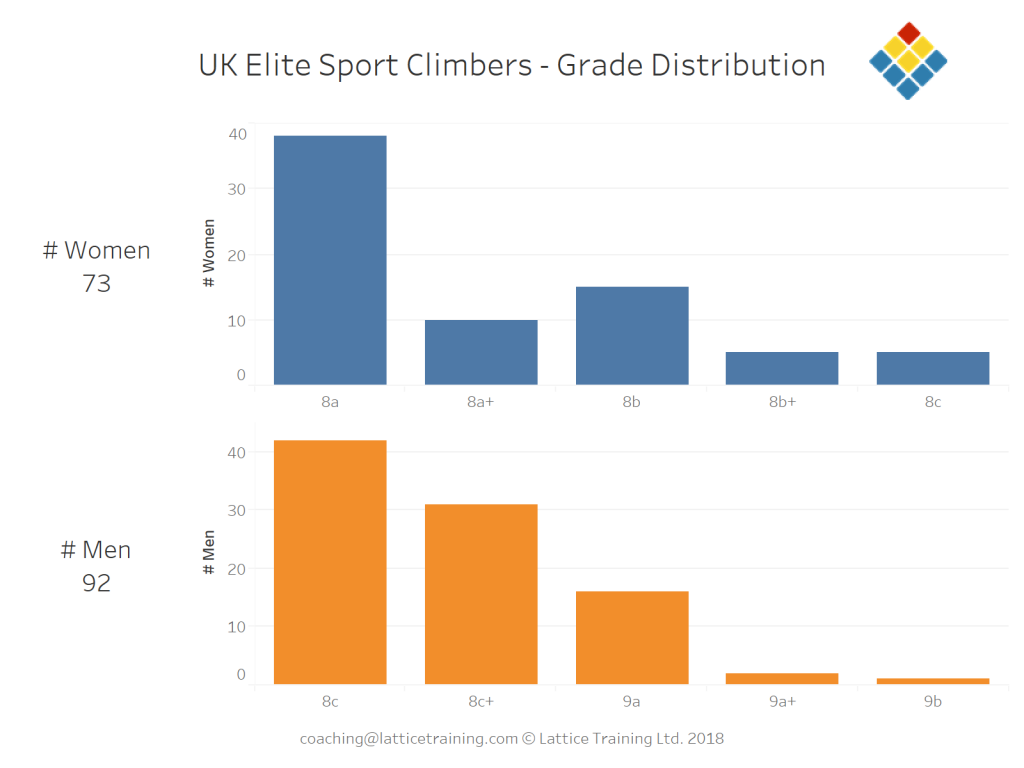 The distribution for women is a bit funky…there are more women with a best of 8b than there are women with a best of 8a+, and there are equal numbers with a best of 8b+ and a best of 8c! Given how big discrepancies in grades can be it's unlikely to be worth reading too much in to this.
Next up I thought it'd be interesting to look at the real cream of the crop, the very best climbers the UK has produced.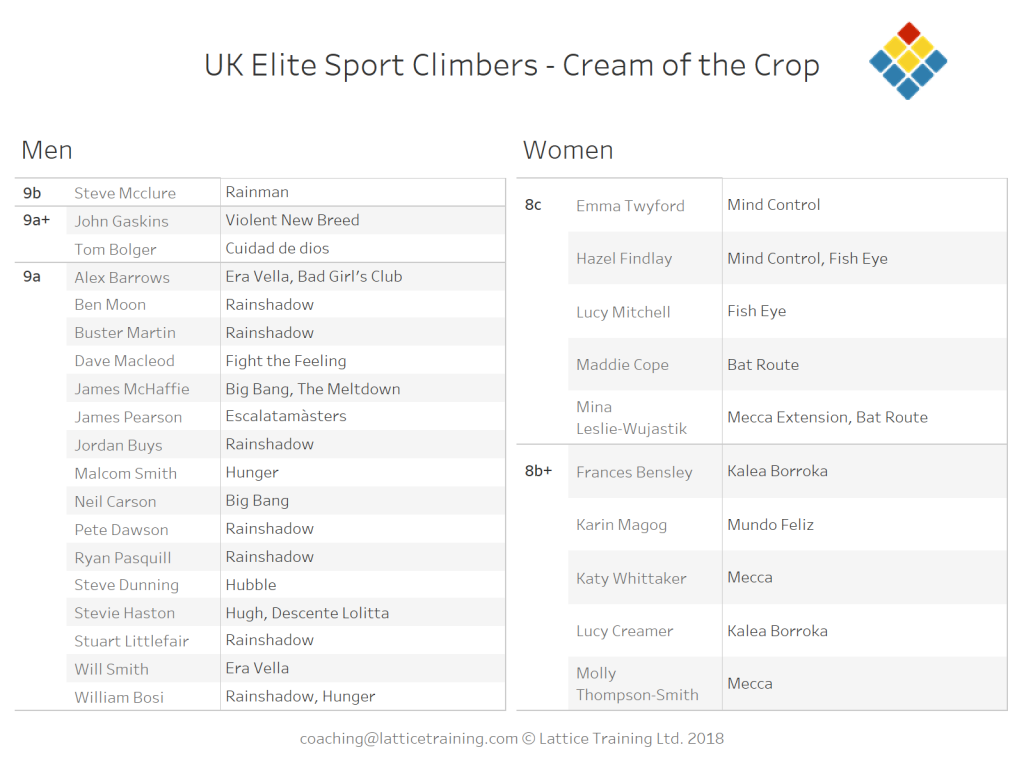 For the women Hazel Findlay and Mina Leslie-Wujastik are the front-runners with Maddie Cope, Lucy Mitchell and Emma Twyford following closely behind. Interestingly of the 5 British women who have climbed 8b+ only 2 are currently active at the highest levels. However I think it's fair to say that there's no shortage of extremely capable young female comp climbers coming through, and if they decide to start climbing outside Im sure there will be a surge of new entrants in to the upper echelons of the list.
For the men 9a is clearly old news with Rainshadow basically being a trade route. Continuing his 20 year run of form Steve McClure is leading the pack with his extremely impressive first ascent of Rainman. At a controversial number 2 is John Gaskins with his unrepeated and extremely bouldery 'Violent New Breed' and at a less controversial number 3 is ex-pat Tom Bolger with his ascent of Ciudad de dios (he's at number 3 because some cosnider Ciudad 9a/+). In the chasing group are Alex Barrows, James McHaffie and Will Bosi each with multiple 9as under their belts. And of course who could forget the enigmatic Stevie Haston, maybe there's a few 9s left in the old boy yet?
So what's next? 8c+ and 9b+ obviously!
Many thanks to all the knowledgeable folks over at UKBouldering for their ongoing contributions. If you'd like to check out the source data the original threads are here: women and men.
More from the Lattice Blog