Projecting Tactics on Hard Boulders! Magic Wood with Leo Skinner & Dom Rowe.
Cover photo by: @solly.k.d
Recently Lattice athlete Leo Skinner and client Dom Rowe embarked on a climbing trip to the bouldering mecca of Magic Wood, Switzerland and, despite setbacks with injury, tactical errors and some bad weather conditions they both left with some major sends under their belts as well as a huge amount of team psyche!
Our Instagram was consistently lit up with send successes and happy stories, so we thought we would ask Leo and Dom to share a bit more about their trip, to get a deep dive into what happens behind the scenes, when trying hard boulders.
---
Leo Skinner
Heading out to Magic Wood, my main goal was to do A New Base Line, 8B+, I had been feeling good in training before the trip, so it felt like a realistic goal for me. However, the day before flying out to Magic Wood, I tweaked my finger! Which of course meant I had to change my expectations for the long awaited trip.
Once out there, I really wasn't sure what to get on at first – due to the finger – and after playing around a bit, seeing what felt comfy, I decided to start on problems with bigger holds, with the outlook of building up my confidence in my finger towards the end of the trip.
After a whole week of little to no climbing (because I was worried about my finger) I started to feel as though it had healed enough for me to jump on some unfinished problems from my previous trip. Last time I had a few problems that I didn't quite complete including: Electric Boogie, Dark Sakai and One summer in Paradise.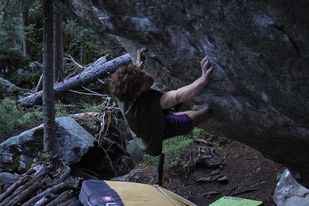 To my surprise, I managed to do them in a session after some punting on the easy bit. I also managed to tick off: Jack's Broken heart 8A+ , Rythmo Brachial 8A and Down under 7C+.
Despite not getting the goals that I originally set out to achieve, I came away from the trip with a really positive outlook, not least because I had managed to do the problems that gave me the most grief last time, but also the satisfaction of seeing how much I have progressed on these problems since the last trip really shows how my dedication to training has paid off! I'm even more confident now with the season ahead.
I also made a YouTube video of our trip which involves Mine and Dom sends along with a few others from Solly and Zed, please check it out and subscribe for more from us!
---
Dom Rowe
Heading out to Magic Wood my biggest goals were to get Never Ending Story 2 and Jack's Broken Heart, as well as a few 7C+'s.
On the first day I really just wanted to run around jumping on problems and seeing where I was strength wise, compared to the last time I was here. After a bit of warming up, I managed to get all of the moves on both Jack's and Never Ending Story 2, apart from the first move on both problems. But I decided to go 100% on Jack's first, as I felt it was more of a challenge mentally and felt like it would go quicker and I felt really strong on it.
The next day I approached the boulder, with the intention to send it, but I ended up making poor decisions in the session that led to no send. This was due to making unnecessary shoe changes and once I realised what I was doing wrong it was just too late in the session.
I took a rest day and decided to go back up, but this day it was in the sun and I wasn't being patient enough and still climbing on it anyway, the two slopey holds were impossible to hold and this meant it was another session were it wasn't being sent because I wasn't being good tactically and just being impatient.
The next day it rained, but the day after was the day it sent! When I reflect on the situation, that was at the time, frustrating, I now feel pretty okay with the fact that it took me so long, because it was a chance to learn a valuable lesson in projecting tactics. Which in turn led me to send more problems that I didn't necessarily think would go.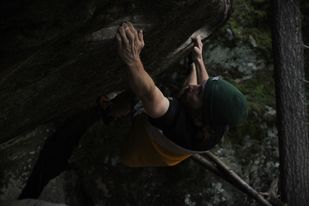 I also managed to get a send train straight after Leo which was a surreal feeling for me. At the start of the year if you were to tell me, I would be part of a send train on an 8A+ I probably would have laughed! It just goes to show the amount of work I've put into training with Lattice, really is paying off!
After this I decided to jump on a hard problem that's not really my style – Rythmo – and that went pretty quickly which I was super happy with!
On the last day the conditions ended up being perfect, so I had one chance to get on Down Under which is very condition dependent. To end the trip, I managed to send it on my third attempt – what a way to end an already amazing trip to Magic Wood!
Overall, I'm really happy with how the trip went because I could have easily walked away with no sends, but instead I managed to send the 3 Problems I wanted to get in the last few days of the trip.
---
Woah! Thanks for sharing the highs, lows and everything in between guys, it's always good to hear different stories on projecting at your limit. Safe to say you both absolutely smashed it out there in Magic Wood and we can't wait to see what you do next.
If you've been inspired to start training for your upcoming trip, don't forget to check out our Training Plans or Performance Coaching Plans, to see who we can support your climbing and training this winter.
More from the Lattice Blog